News
2018-02/13
One Day special on The Republic of Love e-book
The Republic of Love will be featured in Early Bird Books (EBB), Open Road Media's daily deals newsletter with more than 400,000 subscribers, on 2/23/2018. The ebook will be downpriced to $2.99 across all US retailers on that day.
You can subscribe to EBB here so that you'll get the direct link to the deal on the day that it appears in the newsletter.
2017-08/30
Carol's play to be produced in Toronto this Fall!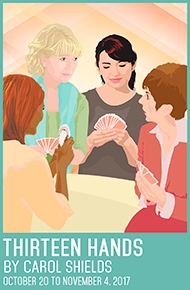 Tickets are now available.
October 20 to November 4, 2017
ALUMNAE THEATRE, TORONTO
Click here for more information or to buy tickets.

2016-10/08
Startle and Illuminate in Whistler
Anne Giardini and Nicholas Giardini appear at the Whistler Writers Festival in The Lives of Writers: Carol Shields, A Legacy, to present Startle and Illuminate, a writing book on craft written in Carol's own words. It takes place on Saturday, Oct. 15 at 4:30 p.m. Tickets are $15 and can be purchased at whistlerwritersfest.com.
Read article here.
2016-09-08
Commemorative bust created to honour Carol Shields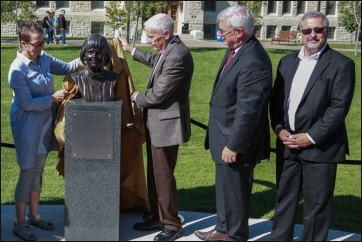 Read about it here: http://news.umanitoba.ca/paying-tribute-to-the-legacy-of-a-literary-lion/
2016-08-16
Unless, the movie
The film version of Unless will have its World Premiere at the Toronto International Film Festival 2016.
The movie was directed by Alan Gilsenan. The cast includes Catherine Keener, Matt Craven, Hannah Gross, Chloe Rose, Abigail Winter, Martha Henry, Brendan Coyle, Hanna Schygulla, Linda Kash and Benjamin Ayres.
We look forward to the movie being in full release soon.


2016-05-17
The Next Chapter with Shelagh Rogers Interview
Anne Giardini and Nick Giardini will discuss Startle and Illuminate with host Shelagh Rogers
CBC Radio One and Serius XM
Saturday, June 4th
sometime between 4:30 and 5:00 pm (the show starts at 4 pm - always worth listening to!)
or listen to the interview online (as of June 4th) at cbc.ca/thenextchapter


2016-05-05
PRESS for Startle and Illuminate

The Globe and Mail article

Maclean's Magazine article

Quill & Quire review
There are still Startle and Illuminate launch events happening. Check below for dates and venues.




2016-03-01
Two new books to be released in April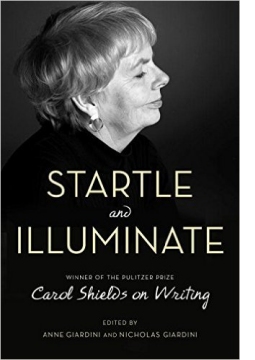 Startle and Illuminate: Carol Shields on Writing
Release April 26, 2016, Random House Canada.
Order from Amazon.ca.
In the course of her extraordinary career, which included the novels The Stone Diaries, Larry's Party, The Republic of Love and Unless, as well as poetry, short stories, biography and plays, Carol Shields was unfailingly encouraging of other writers. She read and commented on her friends' manuscripts. She taught writing classes and she spoke and wrote on the craft of writing. Her own discipline rarely faltered. Her daily practice was to write a new page, then edit the page written the day before, then repeat, until, after a year or so, her book was finished. Now in her own words, as clear and straightforward as a glass of water, comes Startle and Illuminate, the best possible guide to the writing process, from conception to publication. This essential work, drawn by her daughter Anne Giardini and grandson Nicholas Giardini from her voluminous correspondence with other writers, essays, notes, comments, criticism and lectures, is a last gift from one of our finest novelists meant for both aspiring and established writers. It helps answer some of the most fundamental questions about writing: such as, why we write at all, whether writing can be taught, what keeps a reader turning the pages, and how a writer knows when a work is done.
For Shields's devoted readers, Startle and Illuminate reveals her own thoughts on why we read—to be the other, to touch and taste the experience of the other; and why we write—for the joy of the making, to reimagine our world, to discover patterns and uncover forms that echo our realities as well as interrogate them, to imagine alternate worlds. It is a beautiful legacy.


LAUNCH EVENTS for Startle and Illuminate
INCITE event with the Vancouver International Writers Festival (VIWF)
Date: Wednesday, April 27, 2016
Time: 7:30pm
Location: Vancouver Public Library, Central Library - Alice MacKay Room 350 West Georgia Street Vancouver B.C.
Phone (VIFW): 604-681-6330 Phone (Library): 604-331-3603
Details: Free admission
Website: http://writersfest.bc.ca

A Different Drummer Books Brunch
Date: Tuesday, May 10, 2016
Time: 9:30 am
Location: Burlington Golf & Country Club 422 North Shore Blvd. East. Burlington ON
Phone (Different Drummer): 905-639-0925
Details: Part of Book & Author Series - sold as three part session
Website: http://www.differentdrummerbooks.ca

Event with the Toronto Reference Library
Date: Thursday, May 19, 2016
Time: 7:00 - 8:00 pm
Location: Toronto Reference Library Atrium, 789 Yonge Street, Toronto
Phone: 416-395-5577
Details: Book signing to follow
Website: http://www.torontopubliclibrary.ca

Event with the Runnymede Public Library
Date: Tuesday, May 24, 2016
Time: TBA
Location: 2178 Bloor Street West, Toronto
Phone: 416-393-7697
Details: TBA
Website: http://www.torontopubliclibrary.ca

Event with KAMA Reading Series
Date: Wednesday, May 25, 2016
Time: Begins at 6:00 pm
Location: Gardiner Museum 111 Queen's Park Toronto
Phone: 416-977-0008
Details: Single tickets available for $65, series pass is $295
Website: http://www.worldlit.ca

Event with McNally Robinson
Date: Friday, May 27, 2016
Time: 7:00 pm
Location: Grant Park in the Atrium, Winnipeg
Phone: 1-800-561-1833
Details: Co-presented by the Winnipeg International Writers Festival as part of our collaborative Spring Literary Series.
Website: http://www.mcnallyrobinson.com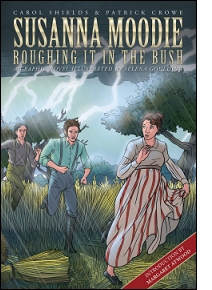 Susanna Moodie: Roughing It in the Bush
Release April 12, 2016
From the late Carol Shields and Patrick Crowe from Xenophile Media, a new graphic novel illuminating Canadian pioneer history and the life of one of Canada's earliest female writers.
Order from Amazon.ca.