Unless: A Novel
2002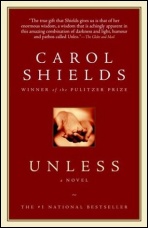 Reta Winters has many reasons to be happy. Then in the spring of her forty-fourth year, all the quiet satisfactions of her well-lived life disappear in a moment: her eldest daughter Norah suddenly runs from the family and ends up mute and begging on a Toronto street corner with a hand-lettered sign reading GOODNESS around her neck.

Piercing and sad, astute and evocative, full of tenderness and laughter, Unless will stand with The Stone Diaries in the canon of Carol Shields's fiction.


Buy the Book
Click here to order.
| | |
| --- | --- |
| | From page one [Shields] commands her place as a writer capable of astounding prose and perspective….It is the kind of writing that makes one stop, take a breath, then reread." |

Read an Excerpt
Click here to read excerpt.



Awards
Nominated Orange Prize for Fiction 2003
Nominated Man Booker Prize 2002
Nominated Scotiabank Giller Prize 2002
Winner BC Book Prize's Ethel Wilson Fiction Prize 2003
Finalist Governor General's Literary Awards - Fiction 2002
Winner Canadian Booksellers Association Libris Award - Author of the Year 2003
Nominated Commonwealth Writers Prize for Best Book (Canada & Caribbean) 2003
Top 100 Books of Decade List, Times of London, 2009



…poignant, yet often astringently funny….as ever, Shields' graceful prose is a pleasure to read. She has a remarkable way of describing things one might already know, but she does so in surprising, fresh and distinctly new ways, ways that allow the reader to understand something anew."

- Winnipeg Free Press



Like The Stone Diaries and its tour-de-force follow-up novel, Larry's Party, Unless presents itself, almost insistently, as a story about ordinary lives. But then, through her sensitive observation and exacting prose, the author proceeds to flip them over and show us their uncommon depths"

- Washington Post Book World (US)


Reviews
Unless reviewed by Clara Thomas, Books in Canada.

Unless is the story Reta Winters tells us as she endures the breakaway of Norah, her eldest daughter, from family, boyfriend, girlfriends and university. Every day Norah sits cross-legged on the northeast corner of Bloor and Bathurst, a begging bowl on her lap and a cardboard sign on her chest. GOODNESS, it says. Norah's defection from a normal life is an inexplicable mystery arising from the totally unlikely context of a loving family: Tom, the doctor father; Reta, the writer, translator, housewife mother; two younger sisters, Natalie and Christine; a treasured old dog, Pet; and their rambling old home on the outskirts of Orangetown, an hour's drive from Toronto. Day by day, Reta practices strategies to survive the cruel present: "It's abrupt and brutal. It's killing us. What will really kill us, though, is the day we DON'T find her sitting on her chosen square of pavement."




All novelists worth their fictional salt can create characters; Carol Shields creates lives...As with all her work, the lives she creates [here] are lovingly delineated, shot through with recognizable reality. The writing itself is perhaps better than ever, pellucid and knowing, as naturally paced as breathing itself, yet with images so apt they pounce off the page...Shields' readers will encounter great poignancy and great wisdom in this book...Carol Shields remakes the world and returns it to us, with hope, grace and redeeming life."

- New York Times Book Review (US)

LOS ANGELES TIMES
The Goodbye Girl
By Jane Ciabattari, May 12, 2002

"Unless," Carol Shields' 10th novel, is a thing of beauty-lucidly written, artfully ordered, riddled with riddles and undergirded with dark layers of philosophical meditations upon the relative value of art, the realistic possibilities for women "who want only to be fully human" and the nature of goodness, that enduring human dilemma also worked thoroughly by Saul Bellow. What is goodness? How can goodness survive in the face of evil? How should a good woman-or man-live?.


Carol Shields's latest novel [is] her most questing and perhaps most personal yet. Unless is a defence of the art of fiction, but at the same time is deeply sceptical of it. It is intellectual and philosophical, but at the same time celebrates the mundane. Only a writer with the technical skill and warm humanity of Shields is capable of holding such contradictions in the delicate and satisfying balance that she achieves here... Unless is the purest expression of her art. It is required reading."

- The Mail on Sunday (UK)

THE GUARDIAN
Hell hath no fury
Blake Morrison finds Carol Shields releasing her anger in Unless
By Blake Morrison, April 27, 2002

The chapter headings of Carol Shields's new novel take the form of prepositions and conjunctions - Notwithstanding, Despite, Whatever, etc. The word "But" is not among them, though it's one she has met, in open deprecation or as a silent parenthesis, when her books are reviewed. Her best-known books - Happenstance, The Stone Diaries, Larry's Party, The Republic of Love - are known for their accessibility (but not for their wisdom); are praised for their exquisite touch (but not for their risk-taking); or are said to do domestic ordinariness wonderfully (but not wider social issues).


Brilliant, humane and deeply satisfying…. It is part of Shields's genius that she so often offers up humour and compassion on the same plate -- sometimes spiced with a subtle political comment or two. But, I repeat, this is only a part of her genius. The true gift that she gives us is that of her enormous wisdom, a wisdom that is achingly apparent in this amazing combination of darkness and light, humour and pathos called Unless. The fact that there are no clear answers to the questions that surround the nature of goodness, happiness, sorrow, does not mean that these conditions should remain unexamined. It is examinations of this kind that enhance life itself. And who better than this author to show us where to look, what to pay attention to? What better guide than a book like Unless, and what better companion than Carol Shields?"

- Jane Urquhart, The Globe and Mail


Essay
Unless: A Novel - 2002


"I like to think of this book on these four little legs: this idea of mothers and children; the idea of writers and readers - I wanted to talk about the writing process; I wanted to talk about goodness; and then I wanted to talk about men and women - this gender issue, which interests me so much and has actually been a part of every book I've written. I think I am always writing about this."

- Carol Shields from the interview "Ideas of Goodness" with Eleanor Wachtel,
published in Random Illuminations, Conversations with Carol Shields

Unless is about a writer, Reta Winters, a middle-aged novelist, mother, and translator who lives in a pastoral town just outside Toronto. Reta lives a happy and successful life until her eldest daughter, Norah, suddenly and inexplicably abandons family, boyfriend, and university to sit, cross legged and silent, begging on the northeast corner of Bloor and Bathhurst wearing a sign that reads only "Goodness".


When Unless was published Carol Shields was in her mid-60's. She and Don had retired to Victoria and were living in their wonderful Georgian home with sunlight streaming in from all sides warming the rooms filled with books and clocks, collected art and treasures from their life together, her children grown and leading successful lives, all with children of their own. But, like Reta Winters in Unless, Carol was coping with her own pain and sense of loss. And yet there was joy to be found, and shared, in even the smallest of things. Carol and Don came into our lives the year before. We were neighbours, had mutual friends, enjoyed the evenings when they would walk down our shared "country lane" and join us at our table for a meal and conversation (always preceded by Carol taking the time to really look at the table and how it was set), were privileged to attend their famous Christmas parties and meet their many, many friends. I will be forever grateful for the time we had with Carol, I only wish it could have been longer. ...


Further Praise...

Generous and inquiring of heart, muted in its palette, this is a grammar of melancholy: of a particular sadness, both domestic and worldly, that arrives unbidden and settles in…. Outrage, humour, compassion, and the elegant arcs of language that distinguish Carol Shields's enduring body of work: these are here in spades. Complacency is absent, and anything that smells of defeat. Unless is a graceful summing-up -- a backward glance, an acknowledgement of this moment, and, finally, the truest assurance that art can give: the future starts now. "

- Bill Richardson, Georgia Straight




If writers were rivers, Shields would flow more deeply and more mysteriously than it would appear from standing on the bank."

- Kitchener-Waterloo Record


Some books come along at just the right time -- Erica Jong's 'Fear of Flying', Doris Lessing's 'The Golden Notebook' or Syvia Plath's 'The Bell Jar' come to mind -- capturing the exact thoughts and feelings of women at a certain moment in history. Carol Shields' 10th novel Unless is just such a book. In Unless, now the best of her novels, Shields has illuminated not only one woman's life, but has reflected the joys, sorrows and anger found in the lives of many women.....I love this book. It has mattered in my life in a big way that few books matter in a reader's life. I have read it three times now and I will read it again and again, because each reading brings something new and thought-provoking, something disturbing and energizing; each time I find something else to admire in its intricate construction, its precise use of language. It speaks the truth with crystalline clarity."

- The Times - Picayune (US)


'Unless' is a signal word, curious, a warning and a sign. As this is a signal novel, profound and resonant, written with the virtuosity and understated brilliance that is distinctive to Carol Shields. Quite simply, Unless is a masterpiece. Brava! Brava!"

- The Ottawa Citizen
[ Buy this book | Top ]