E-books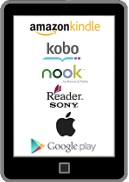 Most Carol Shields books are now available as e-books for all e-readers and in most countries. Please check with your e-book provider to see what is available to you.
Amazon.com
, Amazon.ca, Amazon.co.uk, Kobo, WH Smith, Barnes & Noble, Waterstones, iTunes USA, iTunes Canada, iTunes UK, GooglePlay.

You don't have an e-reader yet? You need help deciding which one is the right one for you? Read PC Magazine's "The Best Ebook Readers."

The Carol Shields Literary Trust e-books
In 2010, the Carol Shields Literary Trust made the decision to self-publish 6 e-books in addition to the e-books that were being published by Carol's 3 major publishers, Random House Canada, Fourth Estate and Harper Collins. This proved to be a major undertaking but a fascinating one as well. We all learned a great deal about e-books and e-readers. We became e-book readers ourselves along the way - not that we have completely given up print books at all; we still love our print books.

In November of 2013 Open Road Media began publishing some of Carol's books in both print and e-book formats, replacing some of our e-books in the US market only.

In March of 2016 World Editions Ltd. began publishing some of Carol's books in both print and e-book formats, replacing some of our e-books in the UK, Australia and New Zealand markets only.

We are also now self-publishing e-books in French. Miracles en série, La mémoire des pierres and La république de l'amour are available for purchase worldwide and others will follow in 2016.

An e-reader can be very useful for taking a lot of books on vacation without the bulk or weight of a stack of books. They are easy to keep in your pocket or briefcase for those times when you are stuck waiting and wishing you had your book with you. Being able to enlarge the font size is great if you don't have your glasses handy and some e-readers will even read to you as you drive!

We hope those of you who already have e-readers will look for our books the next time you want to add to your e-reader library. We think you will find they are well done and the price point is excellent. We have published our e-books for various platforms so you are sure to find them amongst your choices for Carol Shields e-books at your favourite seller's site.

[ Top ]